Teach….
           Nurture….
                                  Inspire….
PIANO LESSONS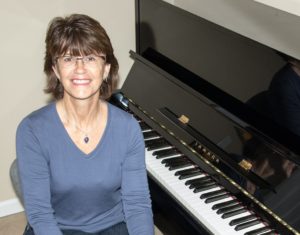 BJ Alexander has been teaching piano in the White Rock area for almost 30 years. She is trained in, but not limited to, the Suzuki Piano Method and has a background in both Classical and popular/jazz piano. To ensure that her students have the proper foundation for playing in any style she is meticulous about proper  playing technique and also believes it is extremely important that her students learn to play by ear as well as learn to read music. She loves working with children and understands the importance of making learning fun!
BJ  prefers to speak personally with prospective students or parents. She'd love for you to give her a call! 604-536-2357
Testimonial
My name is Janice Boots and 2 of my 3 children took piano lessons from BJ. My daughter Anna took lessons from the age of 5 until she graduated high school, and my son Graham took lessons from the age of 7 until the age of 14.
I studied piano as a child and went through the Toronto Royal Conservatory of Music system. I was quite successful in that I certainly could play, but I had a real fear of performance and I also knew that I had not developed a very good "ear" for music. So, when we decided to put our children in piano lessons, I was looking for a program that would develop a good "musical ear" and would give them lots of opportunity to perform.
With BJ, we found exactly what we were looking for. Learning to play piano through the Suzuki method develops a terrific ear, and also a lovely "touch". And BJ's monthly recitals really encouraged a love for performing in both of my children. Even though both kids were slow to learn to read music, this did not stop their ability to play fairly advanced repertoire – either classical or pop, as they were able to learn by ear and observation. As I helped them learn, even my ear improved! Over time, their ability to read music caught up with their ability to play. In fact, now that they are in their 20's, they both have careers involving music.
BJ is great with kids of all ages – she is kind, fun and gives them an excellent practice schedule to follow. As a parent, if you want to be involved in your child's musical education, I highly recommend BJ as a piano teacher.
Janice Boots
BJ is also a qualified preschool music teacher and in 1997 began teaching her own early childhood music program she calls Music on the Move at local preschools and day-care centres.
BJ is a Registered member with SAA (Suzuki Association of the Americas) and holds a diploma in vocal jazz performance from Ontario's prestigious Humber College.